How much is WDC debt, really?
AUTHOR Better! Whangarei DATE 20 May 2017
There seems to be confusion about how much debt the Whangarei District Council really has. Here's the answer, as at 31 March 2017 - it is shown in the April agenda of the Finance and Corporate Committee.
Debt is made up of two parts: External debt which is money borrowed from outside organisations, and internal debt which is money borrowed from "reserves" held for a specific purpose but not yet utilised. Typically a reserve is exactly that - held in reserve and not touched. Not so in the Council's case. They borrow from the reserve; paying interest and on the condition that it is repaid when the money is needed for the reason it is held in reserve.
As at 31 March 2017, external debt was $162 million - which was up $20m in the month of March 2017.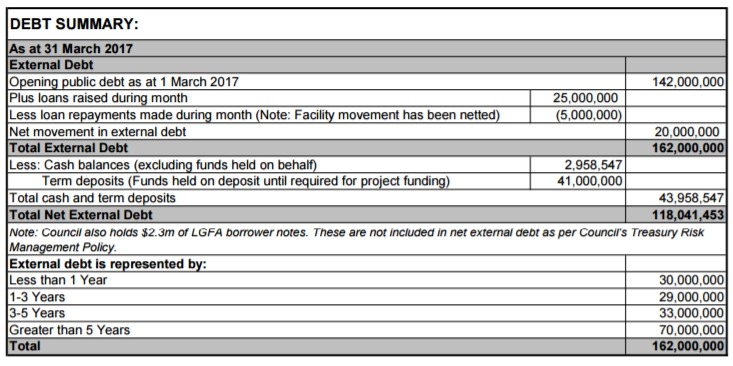 Internal debt totals just over $67 million. Nearly $10m is from funds held for community projects, nearly $32m comes from property sales that according to Council policy has to be reinvested in investment property to provide income to mitigate rate increases, and just over $25m is to be spent on water projects (money that has been collected in the water charges but not yet spent on capital works.

The total debt is therefore just under $230 million.
Comments
Brian Mclachlan:
DATE: 28 May 2017 - 22:09 PM
The question on the amount of Council debt is much talked about. From my prospective the question that should be asked is 'what are ratepayers liable to pay for?' My calculation puts it thus. External Council debt $160m less Cash and Term Deposits of $44m = $116m. Add back internal borrowing of $67m = $183m. Add the cost of capital works programmed but not yet built at $38m and we come to the figure of $221m. This is the amount that Council has committed ratepayers to pay out of there pockets.
---
LEAVE A REPLY